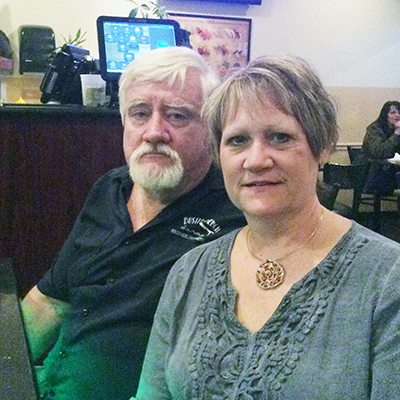 More often than not, our program participants share their stories about their LHA experience and how it has made a difference in their lives. We share with you one such story, from Jeri and Freddie Kendrick, both of whom took part in CHIP (Complete Health Improvement Program), LHA's cornerstone adult education program, last fall.
"CHIP was the answer to my prayer!" Jeri exclaimed in her alumni testimonial. "When I was told my body wasn't tolerating anti-estrogen drugs...I was devastated! I prayed for God to lead me to being healthy again. I found CHIP!"
Before CHIP, Jeri experienced stiffness and tremors on her right side. Her husband Freddie had a lot of achiness. "It was difficult to move and do things." But during her CHIP class, they began to notice improvements. With achy joints becoming less achy, Freddie was able to move without feeling any pain. "I can drive to Athens, get out of the car and walk without pain," Jeri recalled him saying. Jeri herself noticed that her ankles didn't hurt when she got up in the morning.
Almost thirty years ago, Freddie was in an industrial accident that seriously compromised his health. Having taken "mega-doses" of steroids for treatment, Freddie's previous active lifestyle of coaching and playing basketball dramatically deteriorated. "He became a couch potato. He didn't have the same energy level," Jeri said. But during CHIP, he began to feel better and gain more energy. "It was miraculous!" Jeri recounted. "CHIP gave me my husband back! When I say it was miraculous, it was miraculous."
For Jeri and Freddie, they are supported by their family, who at first were skeptical. The Kendricks' gradual change in mood and activity finally convinced their kids and grandkids that this commitment is not such a crazy idea after all. Jeri and Freddie are feeling better and their kids see it. "We got a vegetable steamer and two cookbooks [for Christmas]," Jeri continued in her phone interview.
The challenge with many participants is how they will sustain their new healthy habits after the program. After CHIP, Jeri and Freddie now have a plant-based diet and continue to feel better. For their family Christmas get-together, they even had a plant-based menu. "It's a lot easier. It'll get easier."