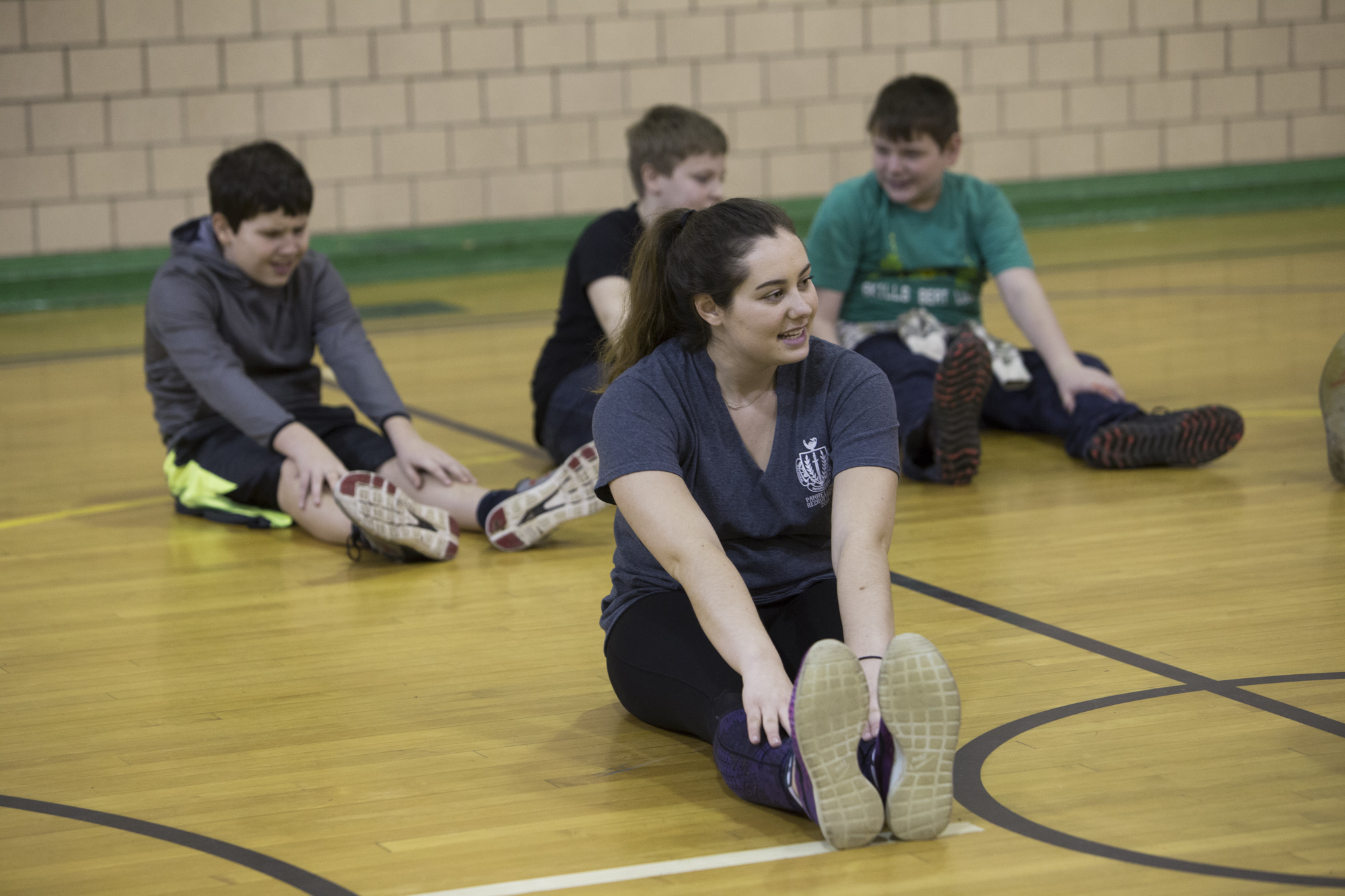 In a circle at the West Elementary gym are 20 fourth graders stretching and getting ready to play a game for a new pilot program for Live Healthy Kids called LHK Coaches. Volunteer LHK Coach Julia Bowen stands in the center of the circle and guides the kids in a side stretch, arching her arm to one side. The kids follow suit. During this ten-minute stretch, Julia asks them for suggestions for a different stretch to follow. She takes a few suggestions as other kids remain quiet; some chat with their friends and a few burst out in laughter as they share stories.
Julia announces their first game. "Today, we're going to play Lupo Manga Fruta!" Before she launches with the directions, she asks the kids what they think the language is. Wild guesses fill the air: Swedish! Mexican! Portuguese! After a few clues that included words like pasta and lasagna, the kids finally guess Italian. "So, who wants to be the wolf first?" Julia asks. A boy named Oliver volunteers. Soon after, Julia brings the rest of the fourth graders in a huddle so they could think of their fruit. Oliver, meanwhile, stands in the back, awaiting his role as the Lupo to begin.
"Banana!" Oliver shouts. Two kids from a line at one end of the gym run as fast as they can, trying to evade the wolf from 'eating' or in this case, tagging, them. They both get away and reach the opposite end of the gym, the wall being their safe place. More fruit names are announced as the kids maneuver their way to safe territory. Alas, Michael is tagged. He is now the wolf.
Games like these encourage kids to be more physically active not only in school but in their own time. With Lupo Manga Fruta and other games that the LHK Coaches Playbook provides, the game environment is inclusive and modifiable, so that kids at almost any level can play. Twice a month, each gym class at West will participate in the program, learning how to play new games that require little to no equipment and can be played at recess and after school. Currently, about 12 of Ohio University's MEDLIFE Chapter members volunteer in pairs as LHK Coaches. West's gym teacher Allyson Horsley supervises the coaches and the kids as they play. "I think it's great LHK has all these ideas for recess. The kids are excited that they are being tried for this pilot program, because they feel like they were specially chosen." Allyson has even been getting requests from the students to play some of the games during her gym class. "It's nice there are different options for kids to play. I already have incorporated games into my gym classes! The kids have already asked me."
"I'm super pumped about it. It's a lot of fun," LHK Coordinator Laura Olbers said in an interview. "It's been great working with MEDLIFE and with Allyson, who are offering four days of the month to us to do this program. It's cool playing with the kids and getting feedback from some of them, especially from the older kids. All of them get really excited playing new games and adding their own element to it."
For Julia, being an LHK Coach has given her insight into the Athens community. "It's a great way to be involved and getting to know the community's health concerns." As an education major, this opportunity was too good to pass up. " I am most excited to be in the schools and work with the students. They're all so much fun. They love seeing a new face every time and doing something different from the normal routine."
Being more physically active isn't the only goal for this program. It also helps to teach kids about following rules and expands their creativity in adapting their own rules to the games. "Sometimes not all of them understand the objective of the game right away," explains OU freshman and volunteer LHK Coach Mackenzie Dangel. "[So I let] them raise their hands and ask me questions about the specific rules of the game. The kids usually figure out the games pretty fast once the momentum of the game picks up." A Health Services Administration major, Mackenzie sees the value of the relationship between the coaches and the kids through the platform of the games. "I think the kids are getting to see that us 'big kids' like to be active and play games too. It'll inspire them to want to stay active throughout their life because it can be really fun and there are many health benefits."
LHK Coach Morgan Marando agrees. "[This] class is a time when kids get to let out all their energy and I think we help them do it in a fun and positive way!" Morgan has witnessed the kids' affinity for games that involved teamwork and cooperation. "I love seeing the kids join a group and be able to create strategies to help their team win the game!"
At the end of the LHK Coaches period, Allyson calls for the kids to stop, grab their things, and line up by the door to head to their next class. "What I like about this game is that we get to run and chase people!" a girl responds with certainty. Her friend standing next to her interrupts and says with a smile, "I like everything!"