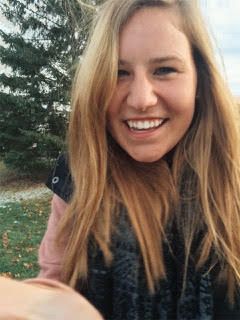 When you move into a new town, what do you do to get involved in the community? For Brooke Berning, she did what some might consider to be a no-brainer: she decided to volunteer. "I love learning about Athens and the community and where I am living. I think it's important," the Ohio University Special Education major said in an interview. Originally from Columbus, Berning believes in paying it forward.
Berning's experience volunteering for Live Healthy Kids has spanned three years. During her freshman year at OU, she received an email about an opportunity teaching for the children's program called Meal Masters. "It was to go to the schools and teach (kids) about the recipes. I thought it was a great opportunity with my major." She volunteered for two years and didn't stop there.
This year, she volunteers as an LHK Food Educator at the Beacon School, an alternative school for students with developmental disabilities. "I really enjoy it because it is relevant to my major," she added. "It's helped me to be comfortable teaching in front of students and be a leader in the classroom, even if it's just for an hour." Without a doubt, the teaching experience during her first two years with Live Healthy Kids has informed her current one at Beacon.
Berning finds that volunteering is its own reward. "When students don't know what a vegetable is and then for them to be able to recognize [the vegetable] and put what we're saying together with actually seeing it, then touching it and tasting it, and then realize they actually enjoy it and go home and share to their family that they like the vegetable -- I love that!" She recalled a related experience with one of the girls in her class. The girl was so ecstatic about the recipe that she urged her mom to make it together at home. "That warmed my heart and made it all the more rewarding. That made it all worthwhile."
Not only has the people she met been a network for her life here in Athens, but she has been able to get support as a student in education. "It's definitely important to volunteer because you meet so many great people," she continued. "(The people you meet) will give you guidance in your field. It's reassuring to know that there is a place for everyone (to volunteer)." Besides volunteering for Live Healthy Appalachia, she also dedicates her time as a Sunday School teacher at a church. This has also given her more opportunities to form more meaningful connections with students and classroom teachers.
Berning knew she wanted to be a teacher when she was in fifth grade. Her sister, who has a disability, continues to be her inspiration to be a Special Education teacher. "I want to make an impact and make a difference."