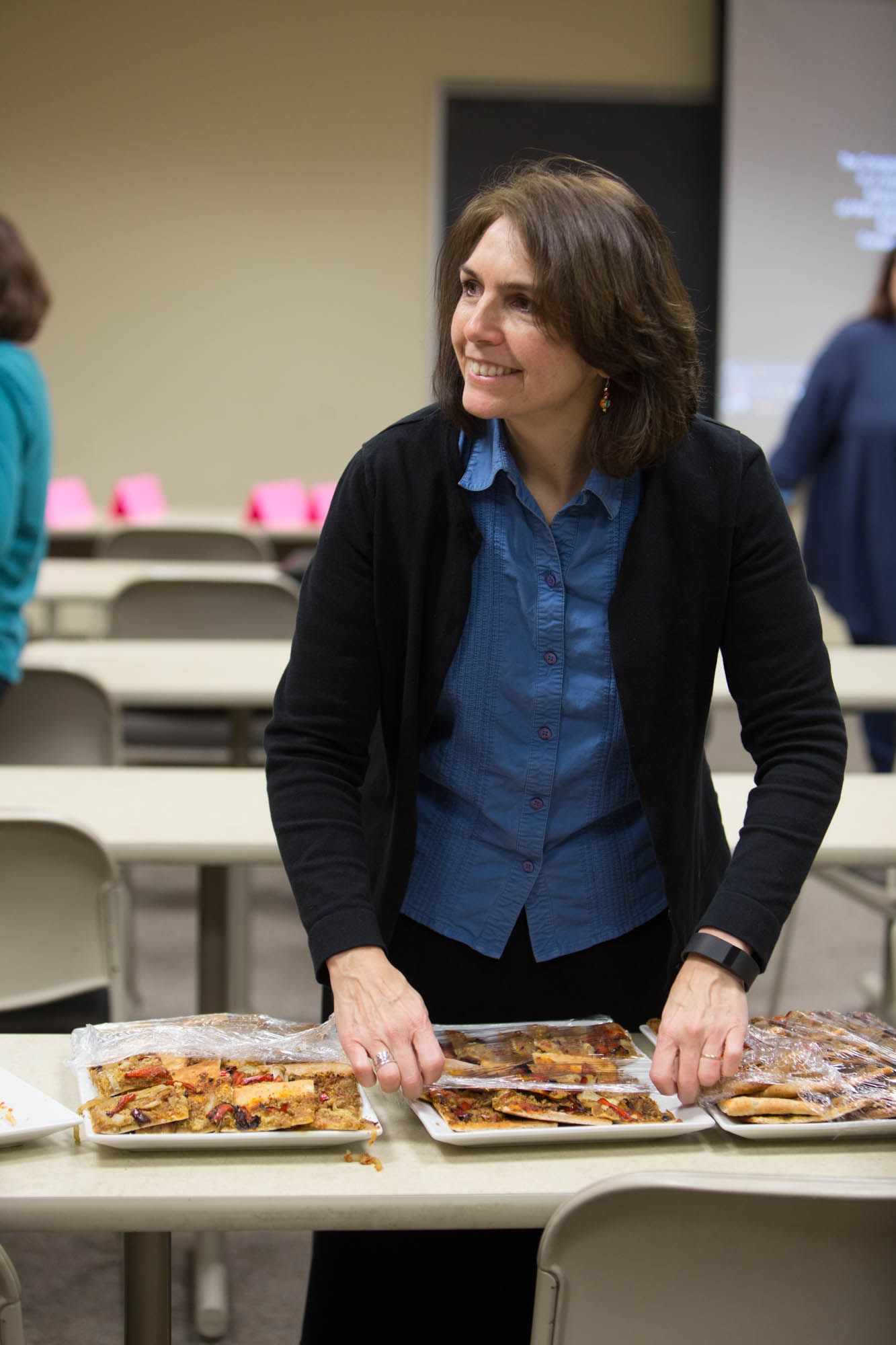 When people feel supported, they build their confidence to make changes for themselves. When they realize they have this power to make changes, they help others do the same. For Ruth Dudding, this support network is what keeps the Athens community working toward a goal to be healthier and stronger.
For our new Ask an Expert segment, Live Healthy Appalachia sat down with Dudding to talk about the importance of forging collaborations and building relationships. As a Certified Health Education Specialist at the Athens City County Health Department (ACCHD), Dudding has been known as an expert in teaching about healthy food and cooking. Her strengths, however, lie in her innate ability to connect people and provide support. Within the 17 years at ACCHD, she has seen many exciting changes and with these changes, a cultural shift in the health mindset of the Athens community. Her role as a CHIP facilitator has also given her insight into what people are concerned about and how this course has given them the tools toward a healthier lifestyle.
LHA: After 17 years here at the Health Department and in Athens, what keeps you motivated to do what you love to do?
RD: The excitement of improvement and impact, growing resources and change. It's always changing. It's exciting to be part of new things. That's what I love about my job the most is that I'm not doing what I did 17 years ago. I am, to some degree, still working on physical activity, nutrition, tobacco cessation. But policy is different. There is an evolution in the changes, with what has the most impact. Being part of that history is exciting.
LHA: What are the major changes you have seen that you believe have had the most impact?
RD: Health is a higher priority nowadays. I've seen schools evolve. They have begun to see health as a tool to help kids be the best they can be. So I see that understanding, that cultural shift in thinking more healthy and expecting that healthy options will be offered. I see restaurants and groceries offering more healthy options. There is more accessibility.
LHA: You have been a CHIP Facilitator for about seven years now. As a CHIP Facilitator, what are some of the things you give advice on?
RD: People get nervous. It seems that no one questions what they should be doing anymore. People tend to ask "How do I do that?" or "How do I go out to eat and make a good choice?" They ask how to deal with family expectations and traditions that may be tied to unhealthy eating. They ask how to deal with high costs for living healthy, which is not the case, as that is not an accurate perception. It's personal and specific. People come at it in a personal way, but they are essentially the same questions. So I give advice on the how it applies to people in the lives they are already living. We always talk about substitutions, celebrations, eating out. Their personal conflicts and conflicting cultural values.
In the recent era of public health, the idea was that lifestyle has an impact on health. Now, the next step is self-empowerment to take steps for better health for oneself. Now people are in charge. And they really can do it. They have influence in how much medication they can take. They have the power to do it. I'm old enough to see the advent of medicine commercials, where they say "Ask your doctor". But now, people are their own advocate. I also see with CHIP that more and more young people are participating. It's a forward-thinking generation.
So I give room, give space for people to understand, to voice their opinions so I could provide that support network.
LHA: What are some things that you love about CHIP?
RD: I still get excited because I know what's going to happen. I will meet people who will be scared or nervous. But in a few weeks, their lives will change for the better. And they do it themselves! I have seen changes already in the 4th week. The community setting also gives the feeling that everybody wins. It really is simple. The results are there. It feels good. It gives me the greatest joy of my life to see people empowered.
LHA: What is the key to connecting people?
RD: Giving people the platform to share their hopes and dreams. It's a safe place. It's their right to do that -- to share success, to help each other overcome struggles. In terms of CHIP, it doesn't matter who you are or what your title is or where you are in your life. The desire and hope to be well is an equalizer. Allowing people to share that with each other is the best way. Sometimes we remove basic humanness when we have social rules about titles. But in the end, we all have similar hopes and dreams. Giving space to dream and realize that is the key. I just love people. They are amazing to me.