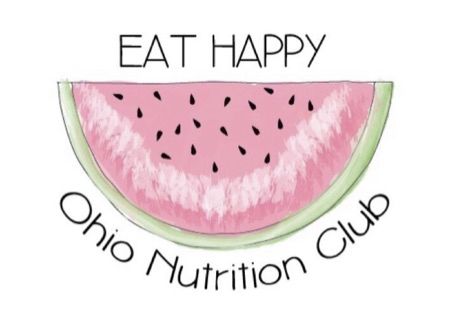 Live Healthy Appalachia (LHA) has recently partnered with Ohio University's Nutrition Club with a goal in mind: providing more service opportunities for its members to spread LHA's mission of health and wellness to the community. "We aim to impact the Athens community by promoting member involvement with wonderful, local programs such as LHA, CFI (Community Food Initiatives) and the SEO (Southeast Ohio) Foodbank," remarks Nutrition Club President and former LHK Volunteer Joelle Hopkins. "For student outreach, we facilitate this through educating and tabling in various places across campus."
"One big thing we do is we help out with dining hall education. We try to help teach students how to eat well in the dining halls with a meal plan," shares Outreach Coordinator Laycie Ball. During National Nutrition Month, club members collaborate with Angela Bohyer, administrative instructor and registered dietitian at OU's College of Health Sciences and Professions. Projects like these foster leadership skills and professional development for its members. "Our organization forms connections with like-minded, health-loving students and offers opportunities to connect with [the] community and faculty," Hopkins continued.
This club is poised to help individuals be their own health advocates for themselves and others around them. "This message shines through our own actions and demonstrated values -- setting examples through our own lifestyle choices, being involved with community initiatives and promoting nutrition on campus and in the community," Hopkins said. In February, club members participated in a REACH program at Kroger. "We made and delivered 'heart healthy valentines' to the Athens community."
For National Nutrition Month in March, the club will be selling Nutrition Club t-shirts for $15 to students and try to expand sales to community members, friends, and families. To strengthen its commitment to local organizations in the community, the club will raise proceeds that will go toward LHA's cooking and nutrition programs. While some of its members have already been providing direct service as volunteers for our cornerstone program Live Healthy Kids, this t-shirt fundraiser is their first.
Those interested in purchasing a shirt to support LHA's mission to bring health to the community and the Nutrition Club's efforts in raising awareness of health and wellness can pre-order by contacting Taylor Camelo. Please see below for details.
Pre-order shirts by contacting Taylor Camelo.
E: tc836315@ohio.edu
P: 1 (716) 381-7061
Order from now until March 13 in the afternoon
Payment methods: Cash or Check to "OUSDNA"
Pre-ordered shirts can be delivered or be picked up at Baker Center on 1st floor on March 20th, 21st, and 22nd from 12 - 2 pm