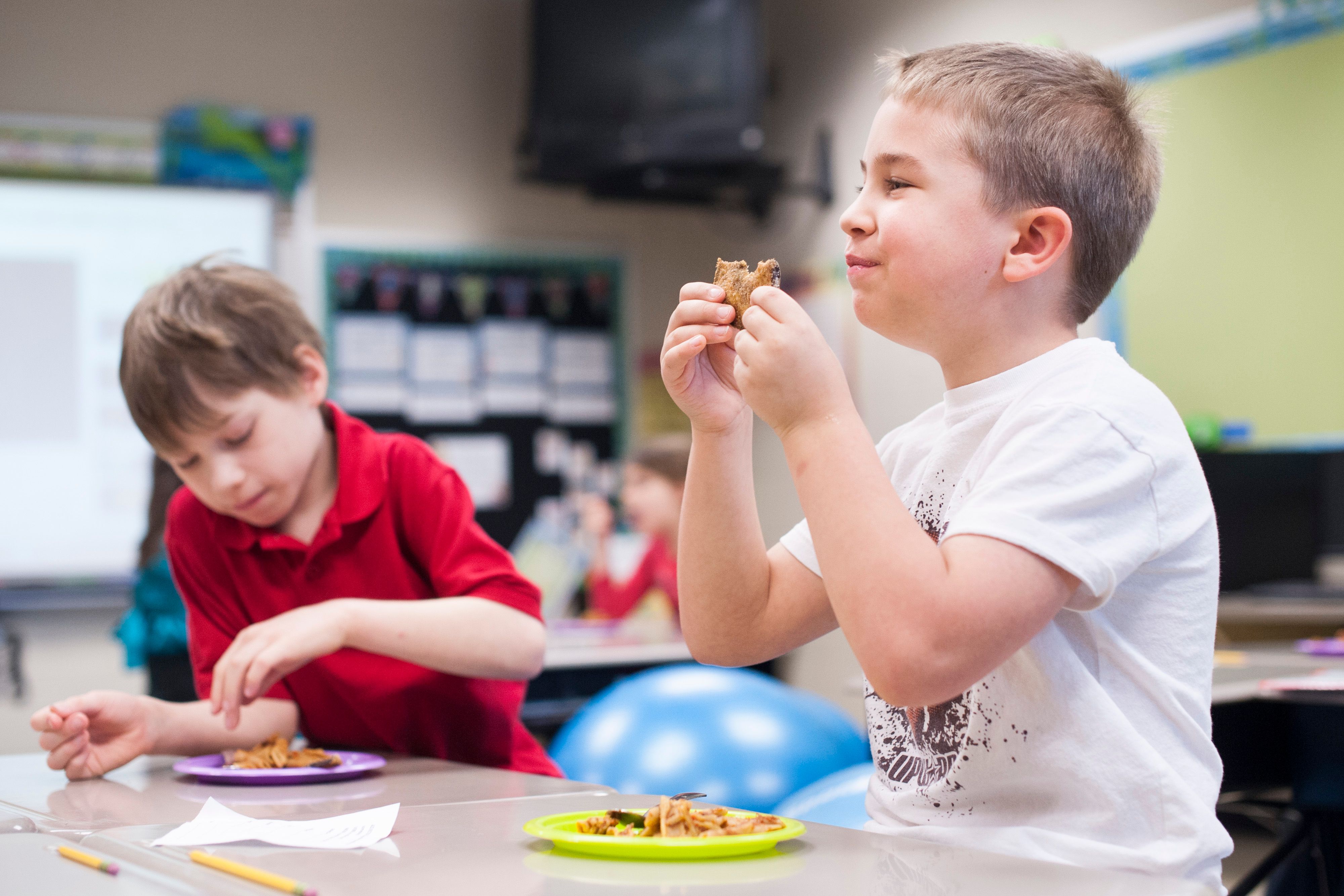 All good things must come to an end. So why not end on a fantastic note? After twenty-two weeks of learning how to make healthy meals and how to stay active, the kids of Live Healthy Kids are going to celebrate under one roof. This celebration is better known as LHK Night, and it will certainly be a fantastic ending to a good year.
"I am excited about getting all the different kids from different schools together and show their families what we've made [throughout the year], LHK Coordinator Laura Olbers says. "It's cool to see the kids eating the food [they learned how to make] and meeting the junior chefs [from Hocking College]. Everybody involved has a lot of fun!"
Cara Haughey, Director of Children's Programs, agrees. "I love meeting the kids and the parents who have just had the program and talking to them about the impact that it's had on their lives." Initially, the program closed with parents visiting the final LHK lesson so they could see what their children were doing. Eventually, this was transformed into the evening we now know as LHK Night. "It's pretty amazing year after year. The program continues to group and touch families all over Athens. And then of course, we have yummy food!"
In its second year, LHK Night will feature some of the dishes in the LHK curriculum. Last year, everyone had the chance to have multiple servings of food that was introduced in the second semester, when the kids "traveled around the world" tasting staple dishes from countries such as China, India, Lebanon and Mexico. This year, LHK Night promises to have similar dishes. Hocking College's junior chefs from the Epicurean Club will cater.
"Last year, we saw several students taste the recipes and have expressions of shocked delight on their faces," says Chef Kathryn McGushin, who serves as the Chair of Hospitality and Culinary Programs at Hocking College and advises the students of the Epicurean Club. McGushin shares a few of the reasons the club caters for LHK Night. "One is that they are getting to make recipes that are healthy and tasty. For many of our students, they are getting to work with items that are not typical in their own diets," she continues. The junior chefs also enjoy working with kids. "For them, LHK Night is a chance for them to see their hard work in action and the impact that they can have as culinarians on people's lives."
LHK Night is also a time for other families to come and meet each other. "It was nice because the parents actually got to see what the kids got to experience in their classes, what they've been telling you about. Kids also got to see kids from other schools," says Tara Tedrow, who attended last year's event with her daughter. Tedrow recommends that families go to the event. "There were games kids liked. That was the fun part for the kids. They also interacted with kids they wouldn't normally know. Parents got to try food that they probably would never have tried before or would have gone to the store and purchased."
Besides delicious and nutritious food, there is also music, dancing and games. Families, friends and supporters of Live Healthy Kids are invited to dance to tunes deejayed by the one and only DJ Rockin Reggie Robinson. "I'm really excited about being part of this event. It's working with young people and promoting healthy nutritional choices and activities. Plus, the food is always great!"
An Ohio Certified Prevention Specialist, Robinson has been rocking the tri-state region for 25 years. "It's the most fun I do in my job," he says. As a prevention specialist, Robinson teaches young people how to keep out of trouble, especially away from drugs. "It's the whole reason I became DJ Rockin Reggie." He found that taking on this role proved to be effective in teaching them about prevention. For LHK Night, he will be applying some of the fun activities he knows kids love. "What I do is interactive -- there will be a hula hoop contest, an air guitar contest, a dance competition."
LHK Night is on Wednesday, April 26 at the Athens Community Center from 5 - 7:30 pm.