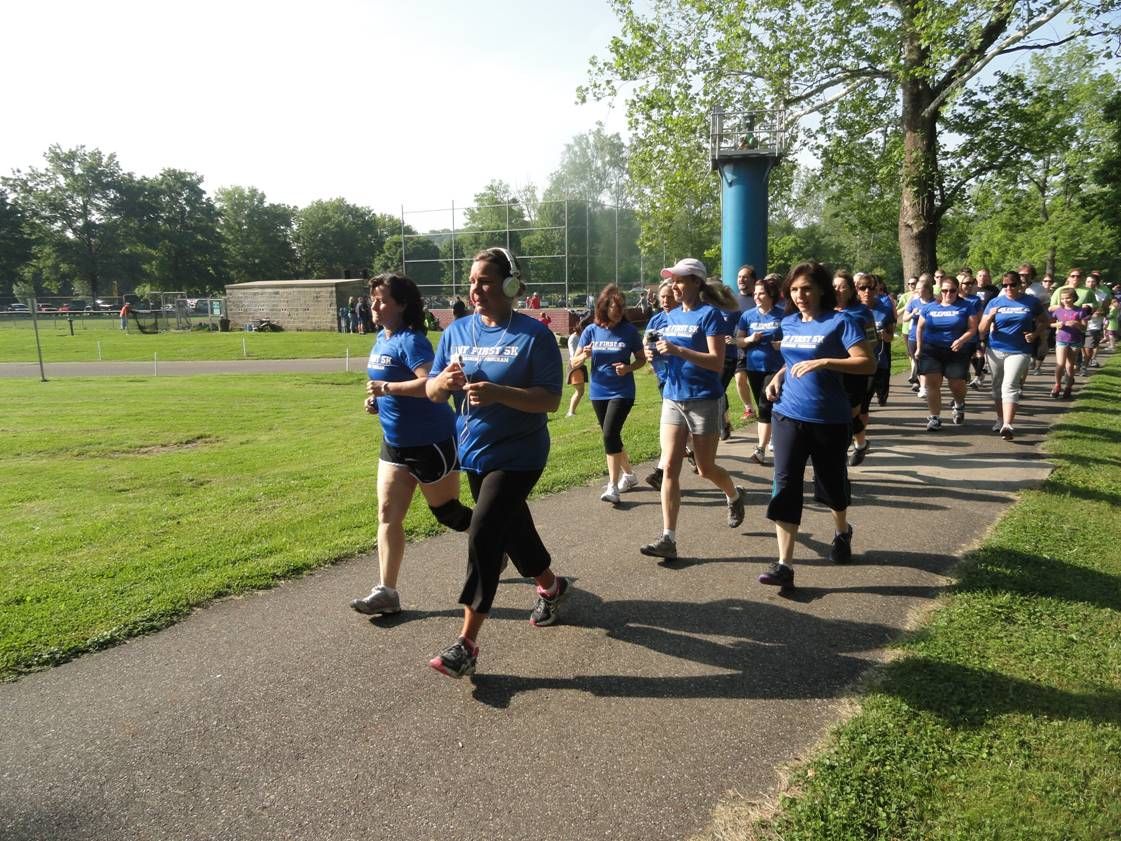 When spring is in the air, so is that urge to feel renewed and inspired. The My First 5K (MF5K) training program does just that -- to bring that feeling closer to fruition by providing free hands-on training geared toward first time walkers, joggers and runners. This year, the six-week training culminates in Race for a Reason on Saturday, April 22. This is the day when all of the hard-earned work is paid off. This is the day 5Kers race for their reason.
"The camaraderie and the schedule, which feels really comfortable, keeps me coming back and looking forward to each week," says Katherine Hammond, a 5K trainee. "I enjoy running but have had an off and on commitment with it. After talking with a long-distance friend who runs regularly, she advised me to sign up for a 5K and find a running group. The next day I saw the LHA training program on Facebook; it felt very serendipitous!"
Participants join this training program for many reasons. Whether it is to find a running group to feel motivated or to simply get in shape, My First 5K provides a support network with volunteer coaches. "I love seeing the progress the participants make from week to week. A lot of them go from not walking at all to finishing the 5K in a couple months. The friendships I see being made among the participants and with the coaches is amazing to see!" says MF5K coach Julia Goodwin, who is in her second year volunteering for the program. Pat Tegge, a volunteer coach for three years, echoes the sentiment as this is an opportunity to empower those who want to be healthier.
Anna Pfeiffer, who is in her first year as coach, is amazed at witnessing "participants work toward their goals", as this helps her work toward her own. Now in her second year as a coach, Allison Hall recalls a woman who wanted to stay healthy during retirement. "The joy she had every week in telling me her accomplishments or even struggles from her other running days also kept me going in my running plan. It was truly a privilege to see her successfully complete her first 5k by the end of the training plan."
With any fitness training program, there are also challenges. For participant Tracy Shust, she experiences pain in her knees. But her main motivation to continue with the program is to get back in shape. Hammond admits that fitting in the time to exercise is difficult. "Before joining the LHA 5K training program I never would have dreamed of running during dinner time! My commitment to the group gets me out the door, and seriously, waiting an extra hour to eat dinner has not been a hardship at all."
The coaches understand these challenges and has some pertinent advice to first time 5Kers. Tegge suggests incorporating exercise as part of the daily routine, as opposed to viewing it as an extra task. "Plan a hike with your family or go to the farmers market and walk around. Just playing with kids/grandkids outside is a great way to be active and train. It could even be as simple adding a bit of exercise in your normal tasks such as parking away from the at the store so you have to walk a bit further adding to your total steps/distance you move in a day."
Goodwin suggests taking one's time. "Don't feel obligated to keep up with everybody else if it's too challenging for your ability level. By starting slow and building each week, it won't be as much as a shock to you, and it's easier to incorporate into your lifestyle. Try to find a partner to walk with routinely to keep each other motivated!"
As the 5K comes closer, participants will choose a reason to race. Emily Quesinberry, LHA's Adult Education Coordinator, shares why LHA is a perfect choice. "The biggest reason is that the funds go to providing nutrition and educational programs that feed back into the Athens community. It allows us to sustain the programs we are providing and expanding them so people have more access to them in years to come."
To sign up for Race for a Reason, visit our webpage on My First 5K. Consider LHA as your reason!