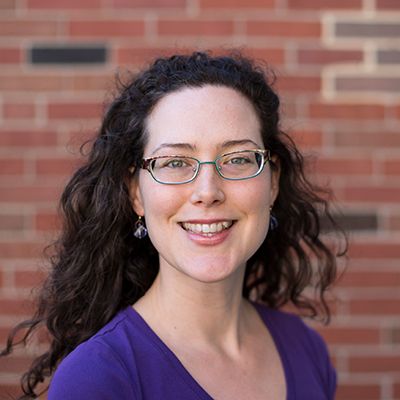 WellWorks Nutrition Counselor Selena Baker embraces health and education with gusto and passion. But before this West Lafayette, Indiana native knew that she wanted to be an ardent, empathetic voice in health and nutrition in the community, Selena first worked in many areas in the dietetics field, shaping her into a self-confessed Jill-of-all-trades. In this new installment of our Ask an Expert series, we sat with Selena and talked about how her wide-ranging expertise in nutrition and strong belief in meaningful individual connections continue to motivate her today.
This motivation was home-grown. "The love of nutrition and food really came from my mom. She is a great cook. We lived out in the country, had our own chickens, had big gardens. We were vegetarian for about 12 years and had a lot of exposure to different types of food." This exposure also embedded the notion of approaching food from a health standpoint. Besides a budding interest in food and science, Selena realized that she enjoyed the people aspect too.
After completing the Didactic Program in Nutrition and Dietetics at Purdue University, Selena went on to do a nine-month, clinically-focused internship at Johns Hopkins Bayview Medical Center. "I knew after [Baltimore] that I really wanted to get into a position where I was doing more education or be in an outpatient environment where I could do a lot of one-on-one counseling," she said.
She decided to gain inpatient experience first. This brought her to a small community hospital in Hayward, California, where she delved into hands-on work in the cardiac, ICU and medical/surgical units. During this time, she met a group of outgoing employees working with WellCall (not Health Advocate) who conducted health screenings and coaching sessions within the community. A lover of learning and community engagement, Selena also embarked on this path of health education, which informs a strong part of her current role at Ohio University.
Selena's inpatient interactions as a clinical dietitian have shown her the challenges of a hospital setting. "It's hard in this [hospital] environment. It's like a health facility and a hotel that no one wants to be in," she recalled as she paraphrased a pithy comment from someone at Johns Hopkins Bayview. "The customer service component is crucial." And it is this component that also continues to motivate Selena. She recognized that her patients couldn't always "see themselves as their own health advocates, realizing that they actually had control of their own health...without disrupting their cultural beliefs."
Transitioning her focus to outpatient counseling, Selena turned her eyes to Athens. "Big things struck me here," she continued. "Like the presence of CHIP, which has a very strong footing here." She loves seeing how people here are more supportive of the locavore movement and the desire to know where their food comes from. "People are more proactive because they want to know more about how to be healthy and not just about treating illness."
However, she also understands the difficult decisions that people with fixed incomes face when it comes to healthy food access and options. "I think connection and empathy are so important. Building trust and letting them know you genuinely care about them. Storytelling is a big part of the culture here. It's about relationships."
It is making these connections with the people in the community -- whether they be staff, students, community members, patients -- and reflecting upon them that keep Selena going. After each session, she routinely asks herself how she can help her clients better. On one occasion, Selena ended the session with a hug. "They were doing so well. I could just tell they were glowing."