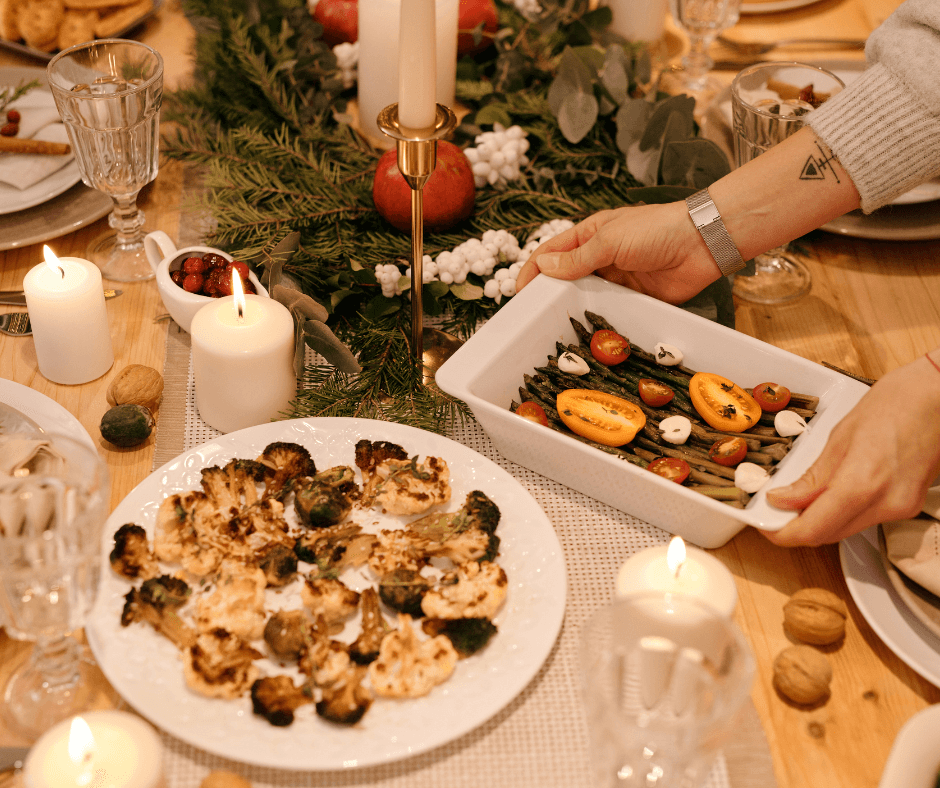 Eating plant-based during the holidays can be hard to navigate. There are so many traditional recipes that people look forward to every year. Some recipes are easy to change a little; some might be a little more challenging. We've compiled several traditional recipes and have provided 7 plant-based alternatives to add to your table this holiday season.
1.) Green Bean Casserole vs. Vegan Green Bean Casserole
A staple in many homes, green bean casserole is a very popular holiday dish that is traditionally packed with excess fats, sodium, and dairy products. This recipe from The Kitchen Girl delivers on all of the plant-based goodness without sacrificing any of the traditional creamy texture.
https://thekitchengirl.com/cant-believe-its-vegan-green-bean-casserole/
2.) Pies vs. Pumpkin Pie Tart
Pies are one of the most sought after holiday desserts. There are many plant based pie recipes that are sure to "wow" everyone at your holiday dinner, but this one takes the cake.
https://www.forksoverknives.com/recipes/vegan-desserts/pumpkin-tart-with-oat-crust/
3.) Biscuits vs. Plant-Based Rosemary Biscuits
Biscuits are such an amazing addition to the holiday menu. Here is a recipe to make some amazing plant based Rosemary biscuits!
https://www.forksoverknives.com/recipes/vegan-salads-sides/rosemary-garlic-biscuits/
4.) Veggie Dip Board/Vegan Charcuterie Board
Before heading to the table, many like to have cheese and meat boards available for their guests. This year, why not try a nice veggie board with some plant based dips? This charcuterie board from Forks over Knives has all the flare and none of the guilt.
https://www.forksoverknives.com/recipes/vegan-snacks-appetizers/dairy-f
5.) Deviled Eggs vs. Smoky Little Devils
Potatoes are such a versatile vegetable and this recipe is proof of just that! Instead of using eggs, this recipe uses red potatoes to create a delicious and satisfying treat.
https://www.forksoverknives.com/recipes/vegan-baked-stuffed/smoky-little-devils/
6.) Mashed Potatoes
Want to change up your mashed potato recipe? Why not check out this scrumptious recipe from Plant Based on a Budget. The link below also provides tasty variations, too. If you have a recipe that you are already in love with, switch out the dairy milk and butter for unsweetened plant milk.
https://plantbasedonabudget.com/mashed-potatoes/
7.) Meatloaf vs. Lentil Meatloaf
If you love meatloaf and are looking for a comparable alternative, you might want to try this amazing lentil recipe from Sweet Potato Soul. Don't let your skepticism prevent you from tasting this hearty and savory dish! We promise you won't be disappointed.
https://sweetpotatosoul.com/vegan-lentil-meatloaf/
We hope you found these alternatives as helpful as they are yummy! Have some recipes you'd like to share? Show off your skills by posting a photo and tagging us @livehealthyappalachia to be featured on our social media channels.