Complete Health Improvement Program (CHIP)?
Chronic diseases such as diabetes, high cholesterol and hypertension are long lasting conditions with persistent effects that require ongoing medical attention and often lead to gradual deterioration of health and loss of independence.
Imagine enjoying not just good health but OPTIMAL health and well-being by addressing the root causes of chronic disease.
The Complete Health Improvement Program (CHIP) has driven positive health outcomes for tens of thousands of participants nationwide.
Supported by more than three decades of published research, CHIP uses behavioral change principles and supports participants in making lifestyle changes that lower key risk factors within a few weeks.
In 2020, CHIP was the first intervention program to earn the Certified Lifestyle Medicine Program designation from the American College of Lifestyle Medicine (ACLM).
Dr. Darren Morton discusses the research:
Over 800 people in Southeast Ohio have benefited from Live Healthy Appalachia's locally facilitated Complete Health Improvement Program.
Our facilitators guide participants through this program over the course of 10 weeks. Throughout the program we focus on whole person health by discussing the benefits of an optimal lifestyle and the tools needed to maintain positive lifestyle change. 

Each CHIP class offered by Live Healthy Appalachia includes:
18 Interactive Group Sessions: educational videos followed by dynamic discussion and peer support

2 Health Screenings: cholesterol, LDL, HDL, triglycerides, glucose and lifestyle evaluation

Participant Kit: access to CHIP Hub for four months, workbook, textbook, cookbook, pedometer, and water bottle

Guest speakers

Whole food plant-based recipes from our tried and true collection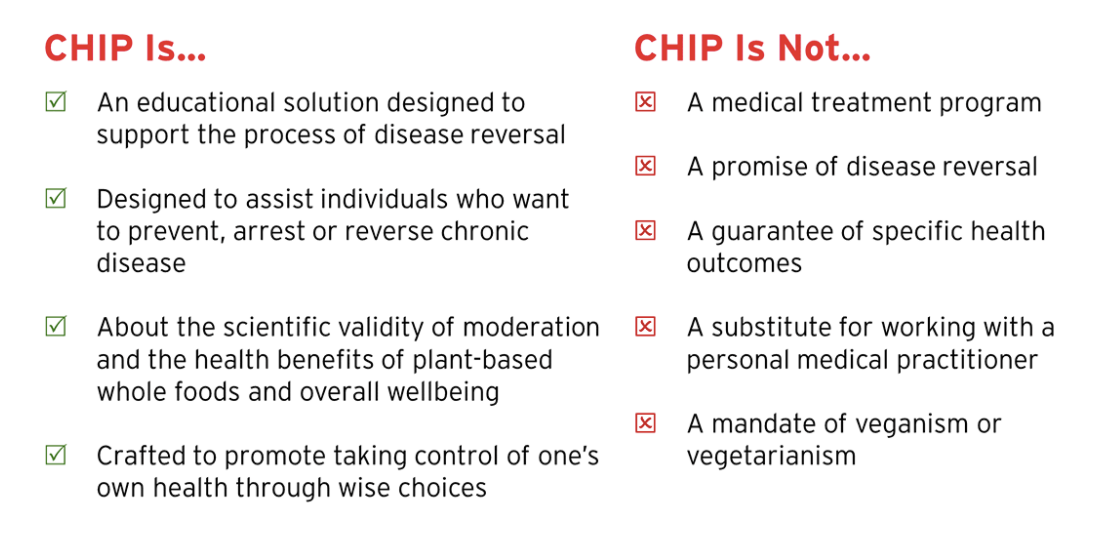 Ready to get started?
Visit our Upcoming Classes page to see the schedule for our next class.
---
More Local Testimonials
"I have lost over 51 lbs, triglycerides are down 100 points, total cholesterol dropped to 183, blood pressure has normalized and I am totally off meds for it. Most importantly, I feel like I am living again!"
-Brenda Morris
Athens, OH
"I have personally benefited from the CHIP program beyond my wildest expectations. We are so fortunate to have a program like this our community, and I urge anyone seeking a healthier lifestyle, to consider this program. It could save your life!"
-Grant Baldwin
Athens, OH
"If you are really concerned with your health, if you are tired of spending money on doctor's visits and medicines, what have you got to lose?"
– Shelley Barton
Athens, OH