What is the Complete Health Improvement Program (CHIP)?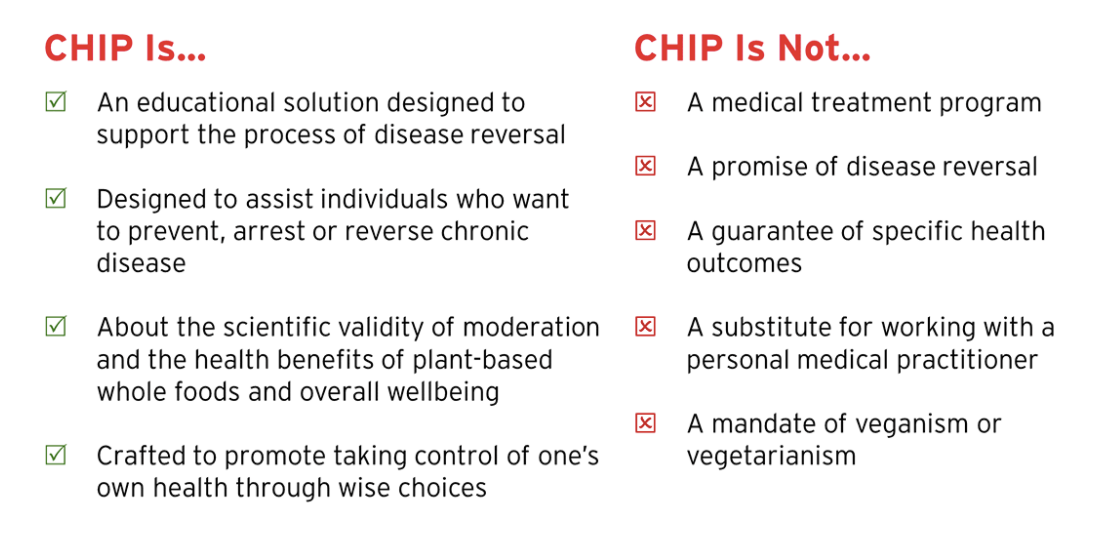 The Complete Health Improvement Program (CHIP) is a scientifically proven lifestyle intervention program that can prevent, arrest, and even reverse today's most common diseases. CHIP is conducted worldwide in community organizations and corporations and led by certified facilitators.
Within the first 30 days, CHIP can normalize blood pressure, lower cholesterol and triglycerides, reduce BMI, stabilize fasting blood sugar, and reduce or eliminate the need for medications.
Nearly 800 people in Southeast Ohio have benefited from Live Healthy Appalachia's local CHIP program. Each CHIP class offered by Live Healthy Appalachia includes 18 group sessions, including videos, dynamic discussions, and peer support that integrates optimal nutrition, exercise, and behavioral psychology principles. The program also includes two health screenings for total cholesterol, LDL , HDL, triglycerides, fasting glucose, height, weight and blood pressure.
 
Interested in learning more?
Attend an Info Session where you can register for an upcoming class, meet our local CHIP facilitators and alumni who will be on hand to share their stories about how CHIP has changed their lives. Click here for upcoming dates and times!
Testimonials
"I have lost over 51 lbs, triglycerides are down 100 points, total cholesterol dropped to 183, blood pressure has normalized and I am totally off meds for it. Most importantly, I feel like I am living again!"
-Brenda Morris
Athens, OH
"I have personally benefited from the CHIP program beyond my wildest expectations. We are so fortunate to have a program like this our community, and I urge anyone seeking a healthier lifestyle, to consider this program. It could save your life!"
-Grant Baldwin
Athens, OH
"If you are really concerned with your health, if you are tired of spending money on doctor's visits and medicines, what have you got to lose?"
– Shelley Barton
Athens, OH