COVID-19 has impacted the physical and mental health of caregivers and health care workers on the frontlines of the pandemic. With support from the Peoples Bank Foundation and the OhioHealth Foundation, we will be offering Self-Care for the Healthcare Worker again virtually, with scholarships available for any healthcare workers living or working in Athens or Washington Counties.
Be your own best medicine!
If you are looking for motivation and accountability from the comfort of your own home, this opportunity is for you! You'll learn how to eat more nourishing whole foods, creative ways to move your body more, and helpful ways to manage your stress and become more emotionally resilient.
Class sessions will be held on Zoom:
June 15th - August 18th
Tuesdays & Thursdays from 6:30-7:30 pm
 
---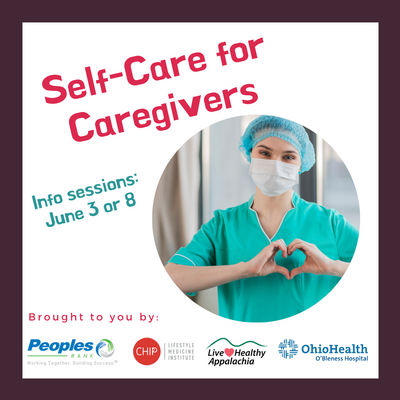 Ready to get started?
Attend an Info Session to learn more about the program, ask questions, and meet your local CHIP team. Details on how to enroll in the Summer 2021 class will be given during the Info Session.
 Info Session 
Thursday, June 3rd
Zoom meeting
6:30-7:30 pm
 Info Session 
Tuesday, June 8th
Zoom meeting
8:30-7:30 pm
---
Each CHIP class offered by Live Healthy Appalachia includes:
- 18 educational sessions: videos, dynamic discussions, and peer support
- 2 health screenings: cholesterol, HDL, LDL, triglycerides, glucose, and lifestyle evaluation
- CHIP Kit: cookbook, workbook, and textbook
- Whole food plant-based recipes from our tried and true collection
---
Questions? Please contact Amy Lipka for details regarding Live Healthy Appalachia's local CHIP programs, 740-856-6100 or amy@livehealthyappalachia.org.