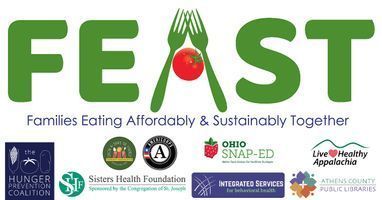 ---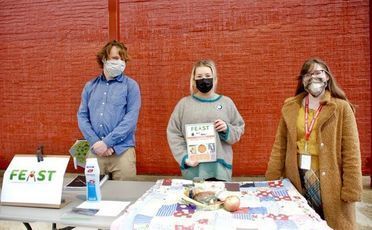 FEAST is back!

Participate in this free, re-imagined series happening from the safety of your own home.

Receive an easy recipe with fresh local produce and other healthy whole foods. Step-by-step recipe instructions and a companion video about the ingredients will be sent to the email address used to register.
Upcoming themes include:
 April - Turnip Tacos Registration is open! 
 4/21 Nelsonville (register here) or 4/22 Coolville (register here)
 May - Blueberry Chickpea Salad (5/19 Nelsonville or 5/20 Coolville)
 June - Great Grains Salad (6/16 Nelsonville of 6/17 Coolville)Save & Close
There are now two locations for FEAST at HOME!

Nelsonville Library:
3rd Wednesday of each month
Pick up will be located outside on the library stage from 4-5:30pm***
Coolville Library:
3rd Thursday of each month
Pick up will be located outside on the library porch from 11:30am-1:00pm***
***Please wear a mask and practice social distancing and only send one family member to pick up your ingredients.
---
If you missed a previous FEAST event and are interested in trying the recipes click on the images below to download your copy.
 
The 3 Sisters Chili Bowl is a perfect meal for a cold winter's night. A chili filled with acorn squash, tomato, kale, and kidney beans will surely warm you up. This chili is served on a bed of cornmeal grits and topped with a fresh, tangy corn salsa.
Cabbage is a readily available winter staple and can be used in so many ways. Since this sweet and tangy dish relies mostly on pantry staples, it's an easy, delicious fix when your cupboard seems bare. As a bonus, enjoy a simple raw apple crisp for dessert!

April: Whole Turnip Tacos

These tacos will make turnips a staple in your kitchen! With flavorful chickpeas, roasted veggies, and sauteed greens, this recipe is filling, fun, and affordable --- plus you can top the tacos with all of your favorite fixings.
---
FEAST is a project of the Hunger Prevention Coalition (HPC) and is presented by Community Food Initiatives, Live Healthy Appalachia, and OSU Extension Snap-Ed, with support from HPC members, Athens County Public Libraries, Integrated Services, Sisters Health Foundation, and others.